23 October, 2018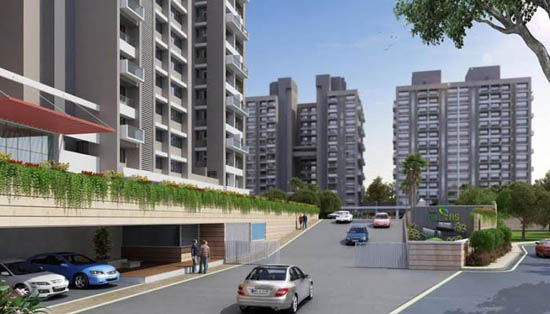 Source : freepik.com
The quiet 'lake city' of Thane, once considered the 'satellite' of Mumbai has metamorphosed into one of the most coveted real estate destinations not just in India but in the world. A recent global survey has placed Thane in the top 20 cities in the world where the elite would want to invest in real estate – putting Thane in the league of such international cities like Shanghai and Los Angeles. It is easy to see what has made Thane such an attractive proposition.
Impeccable Connectivity:
One of the greatest criterions when it comes to real estate is location, especially with regard to connectivity and ease of commute. Thane is at the epicentre with various locations radiating around it. So whether one needs to travel to Mumbai, Navi Mumbai or any other destination, the network of rail and roads makes it possible. Thane is connected by a network of roads such as Ghodbunder Road, JVLR, SCLR, Eastern Freeway, NH 8, Mumbai-Nashik Highway and the Thane-Belapur Road.

With constant infrastructural improvements, connectivity is set to improve with the planned metro rail between Thane and Wadala. Also in the pipeline are the proposed 11-km long tunnel between Thane-Borivali, construction of the Thane-Diva Road, the flyover at Bhiwandi bypass, metro-3 project to Kalyan and Mira – Bhayander areas and parallel roads from Thane to Kalyan along the metro line.

Self-sufficient and Self-contained:
Those who live in Thane find it one of the most convenient places. Though the connectivity is excellent, there is actually no need to residents to take travel – employment, education, healthcare and entertainment – there are ample opportunities for all in Thane. From being the third most industrialized district in the State, Thane is now also now slowly becoming an IT hub. Major IT parks, BPOs and KPOs in and around the city, like the Ashar IT Park and the Biz park offer employment opportunities. Further, the Maharashtra Chief Minister has also granted approval for a business hub to be developed in Thane, along with the lines of Bandra-Kurla Complex. Today, per capita income in Thane is Rs 1.26 lakhs which is a tad 10% below Mumbai's level of Rs 1.41 lakhs.
Quality education is a priority for families and there are several schools offering SSC, IGCSE, IB courses in the city. In fact, residential township projects have schools within the complex like the Rustomjee Cambridge International School so that children do not have cope with travel issues. In addition, Mumbai University's new campus is setting up base in the city and the Municipal body is allotting more plots of educational institutes in which students can pursue higher education.


When it comes to medical facilities also, there are hospitals in Thane with state of the art technology to cope with any medical issues such as Jupiter Hospital and Horizon Hospital.


For the shopaholics' malls in Thane are spread over large areas and host the best brands, these include Eternity, Korum, R-Mall and the Viviana Mall. Moreover, with availability of space, most of the new developments in Thane have provisions for the entertainment and recreation of their residents within the gated communities itself – grocery shops, mini-marts, extracurricular activities for kids, coffee shops, cafeterias, conference rooms, gymnasium and swimming pools – amenities are ready for the use of residents.

Residential Paradise:
An increasing number of people are choosing Thane as their residence of choice. The pollution free environs, good infrastructure and a variety of residential projects make Thane a home buyers paradise. The fastest moving category of homes in this area are the compact 2BHK apartments which are typically priced in the very reasonable price range of Rs 1- 1.2crore. For those seeking larger homes, especially joint families, options of premium 2BHK apartments in the size of 850-900 sq ft are also available.

The availability of space in Thane has translated into large township projects coming up in the city. While places like Godhbunder Road are quite saturated, areas like Majiwada have good projects offering state of the art amenities to residents. Within Thane, Majiwada has been ranked amongst the top 10 locations in India to buy homes. With the government now allowing high rises in Thane as well, it is also becoming a vertical city, offering choices of budget and luxury homes.

Investor's Delight:
Real estate in Thane has only been on an upward trajectory. In fact, Jones Lang Lasalle and the Confederation of Indian Industry have rated Thane as the number one investment hotspot. This is seen from the near 100% appreciation on property seen in Thane over the past few years. In fact, according to statistical data, certain areas in Thane have recorded more than 400% hike in the last 8 years. Experts reckon that Thane real estate will be quite immune to any price corrections, making it perfect for investors looking at close to guaranteed appreciation on their investments.

Given the attributes of Thane – constantly evolving infrastructure, excellent resources for families, great employment opportunities, choice of homes and projects, benefits of space and clean environment and above all appreciation value – it is little wonder that the real estate market here is booming. The demand is highest in the residential sector, where, for every square foot of commercial there is an equivalent demand of 10 lakh sq ft of residential property.


There is only one direction in which prices in Thane will go – UP!

Source : accomodationtimes.com
SHARE THIS: