08 October, 2018

The Wadala-Kasarwadavli Metro IV could bulldoze several existing and proposed infrastructure projects along its route within Thane city limits due to the reported lack of coordination between Mumbai Metropolitan Region Development Authority (MMRDA) and local government bodies.

The initial route map for the metro shows that the railway alignment overlaps Thane Municipal Corporation (TMC)'s five existing and two proposed foot over-bridges at various spots along the Eastern Express Highway (see box). The prime cause of concern is that the map, accessed by TOI, does not highlight the presence of four of these bridges, leaving the corporation to interpret that these may have to be brought down or constructed elsewhere to accommodate the metro line.

While officials refused to comment on the fate of the bridges, they admitted to awaiting communication on the issue. They said work on two approved bridge projects on Ghodbunder Road has been frozen as "a precautionary measure".
Meanwhile, the issue of metro overlapping with city infrastructure was also raised at the Thane standing committee meeting on Wednesday where Shiv Sena corporator Naresh Manera questioned why no information was being disseminated to the stakeholders. "I have written to the municipal commissioner for holding a coordination meet with MMRDA over the project. The metro project is important but we need to know how it will impact the existing and proposed developmental projects," Manera said.
Activists have trained their sights on the issue and questioned the lack of coordination between the city and regional planning authorities. "It will be interesting to find out if the bridges will be demolished or will the metro line be elevated to salvage these FOBs. It looks as if the lack of coordination between the MMRDA and TMC has failed, which has resulted in a waste of money. There has to be one master plan for the city, irrespective of the number of agencies executing it," said activist Sanjeev Datta from Thane.
When contacted, Anil Patil, city engineer at the TMC, confirmed that there has been no communication with the MMRDA team over the exact alignment of the metro line that will pass through Thane and their impact on the existing infrastructure. Despite repeated attempts, MMRDA spokesperson Dilip Kawathkar remained unavailable for comment.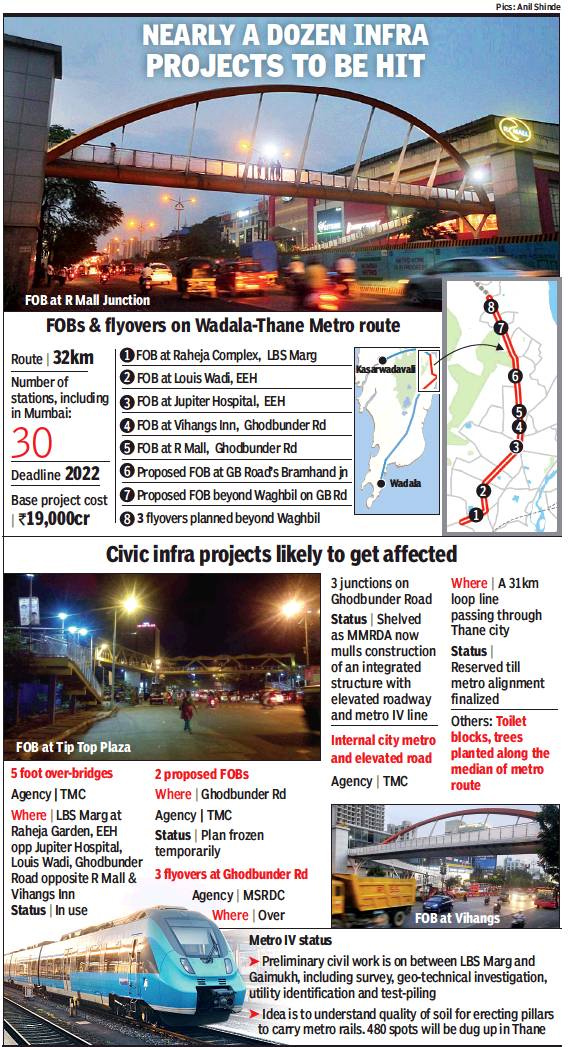 Source : timesofindia.indiatimes.com
SHARE THIS: