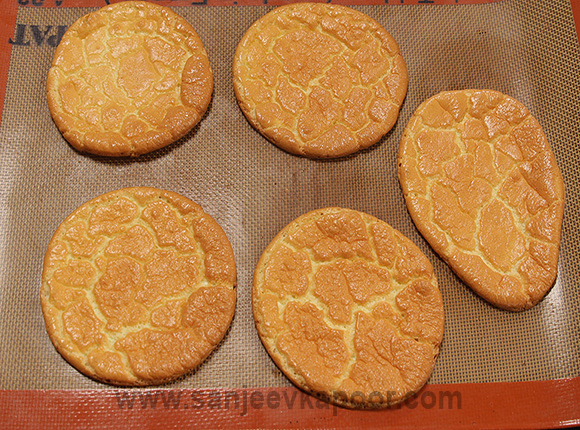 Image Source: sanjeevkapoor.com
Cuisine: Fusion| Course: Breads

Prep Time : 21-25 minutes
Cook time : 16-20 minutes
Serve : 4
Level Of Cooking : Easy
Taste : Mild
Ingredients for Cloud Bread Recipe
Eggs separated 3 large
Cream of tartar a pinch
Cream cheese 2 tablespoons

Method:
Step 1
Preheat oven to 180° C. Line a baking tray with a silicon sheet.
Step 2
Beat egg whites with cream of tartar in a bowl till stiff peaks form.
Step 3
Mix together egg yolks and cream cheese in another bowl till well combined and smooth. Gently fold in about 1 cup egg white mixture till well combined. Add remaining egg white mixture and fold in well.
Step 4
Divide the egg mixture into 8 equal portions and put on the prepared tray. Spread to about ½ inch thickness.
Step 5
Place the tray in the preheated oven and bake for 15-20 minutes or till lightly browned. Remove from oven and cool on a wire rack.
Step 6
Serve or store in an airtight container in the refrigerator.
Source: http://www.sanjeevkapoor.com/Recipe/Cloud-Bread.html
SHARE THIS: